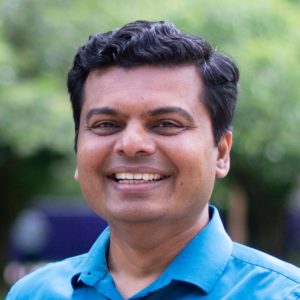 Emerging as this year's winner from a very strong field of nominations we are pleased to announce that the Microsoft BCS/BCS IRSG Karen Spärck Jones Award 2019 is to be awarded to:
Dr. Chirag Shah
Associate Professor in the Information School (iSchool) at the University of Washington
Short bio
Chirag Shah is an Associate Professor in Information School (iSchool) at University of Washington (UW) in Seattle. Before UW, he was a faculty at Rutgers University. His research interests include studies of interactive information retrieval/seeking, trying to understand the task a person is doing and providing proactive recommendations. Dr. Shah received his MS in Computer Science from University of Massachusetts (UMass) at Amherst, and PhD in Information Science from University of North Carolina (UNC) at Chapel Hill. He directs the InfoSeeking Lab where he investigates issues related to information seeking, human-computer interaction (HCI), and fairness in machine learning, supported by grants from National Science Foundation (NSF), National Institute of Health (NIH), Institute of Museum and Library Services (IMLS), Amazon, Google, and Yahoo.
Keynote
We can expect a keynote talk on Task-based Information Retrieval. Stay tuned for more details to be announced …